VisiCube
VC4472
VC4466
VC4465
VC4458
VC40002L
VC4016
VC4018
VC4038
VC4058
VC4065
VC4066
VC4068
Need speed? 1200, 3200 or 8000MIPS @ 250 frames/second in a standalone camera!
(Comparable to 2.6GHz Pentium)
New C6 series: dramatically improved processing and acquisition speed, colour graphic interface.
Just one benchmark: XY SOBEL over 512x512 region in 7 (seven) millisec on VC20xx! Even faster on 40xx! See more benchmarks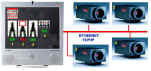 Most models come with built in Ethernet port that can be connected to a LAN or to the Internet: (multicamera) systems can be deployed that can be controlled fro remote locations, where images and parameters are available. What's this for?
Common features:
(For details and differences, see the features of individual models)
Processor: 32bit Texas Instruments DSP RISC

TMS62C11 RISC DSP 32bit Processor, parallel processing of 8 instructions, @ 150MHz clock, delivering 1200MIPS (VC20xx series)
TMS320C64xx processor, parallel processing of 8 instructions, 400MHz clock, delivering 3200MIPS (40xx series, avail. 1Q 2005)

More memory:

16MB RAM (SDRAM) r/w @ 400MB/sec.
2M Flash EEProm
8MB Flash Card adapter (*)

CCD progressive scan sensors, resolutions between 640x480 and 1280x1024 pxl
Electronic shutter from 1/200.000 (5usec) to 20 seconds.
Ethernet port (TCP/IP, FTP, Telnet, HTTP, UDP, socket server) (*)
Input LUT
10 bit DAC, Zero offset digital clamping.
Programmable gain.
Color SVGA video output, 2 independent LUTs for graphics and 8 overlay planes (16M colors)
General purpose, optoisolated I/Os (4+4)
new dedicated I/Os (*)

Dedicated trigger input for snap synchronization.
Dedicated output for Strobe/Flash lighting control (TTL).

Independent serial port for keypad
DMA controller for optimized access to memory (video, graphics etc.)

16 indipendent channels
1 Very High Speed channel

On board Interrupt controller
Standard case for C optics (Drawings and dimensions)
(*): some models
Unparalleled price/perfomance ratio
Source code compatibility with software developed for previous standard models is ensured by a 100% portable library across all families (save for model specific features).
Family map: all available or coming soon (greyed image) models. Click on links for available details.


Select by feature: select the most suitable model according to your requirements (by resolution, by speed etc.)

<< VC4038: 640x480, 63fps, 3200MIPS processor.
<< VC4065: 782x582, 55fps, 3200MIPS processor
<< VC4066: 1024x768, 30fps, 3200MIPS processor
Where not otherwise specified, some features are shared with the standard SMARTVIEW family (described here )
(*): some models.