VC4002L: 2048x1 line scan sensor, 782x582, 11K sacan/sec, TMS320C64xx processor, TCP/IP Ethernet port + RS232
Need more speed? 3200MIPS!
(Comparable to PENTIUM 2.6GHz)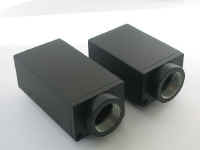 Linear sensor model with 400MHz TMS320C64xx DSP, delivering 3200MIPS (comparable to a 2.6GHz Pentium PC); no video output, short camera case with C-mount
Product features:
(Common features of C6 series)
Download brochure.

Texas Instruments TMS320C64xx 400Mhz processor @ 3200MIPS
Ethernet port (TCP/IP, UDP, socket, Telnet, HTTP server) + 115K2 RS232
Line scan, 2048x1 CMOS line scan sensor, 11K scan/sec, 14mm length
Shutter up to 91usec
Versatile acquisition: free run (max 11KHz) or external trigger sync (max 5.5KHz).

costant integration time, free run (max 11KHz)
costant integration time, synchronized with external trigger signal (max 5.5KHz).
variable integration time, synchronized with external trigger signal (max 5.5KHz).

C-mount lens, standard case.
Shutter: up to 1/10.000sec, step 62usec
Memory:

32MB di RAM (SDRAM) accessible at 400MB/sec.
4M Flash EEProm
128M additiona EEPROM on onboard SD card

4 in + 4 out optoisolated, 4in + 4 out TTL
image capture trigger input, strobed lighting output
800x600 SVGA video output (VESA) with 8 bit color overlay.
Multitasking Operating System
Family map: all C6 3200 & 8000MIPS models