VISUAL INSPECTION SYSTEMS

Versione in italiano?.


Smart cameras (DSP based intelligent cameras, up to 113 frames/second, 1200MIPS, 1280x1024pxl) (as of Jan 2005, improved speed at 3200MIPS!)

SMART cameras with built-in DSP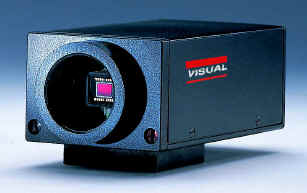 Wide range of matrix cameras ready to support distributed machine vision tasks with no need for any external grabber or processor; DSP, video output, optoisolated I/Os, RS232 or Ethernet.

Work without PCs or frame grabbers.

Programmable in C or with graphic development tools, application specific software is also available.

Res. 512x512pxls thru MEGAPIXEL (1280x1024), progressive scan and color versions, OEM, open frame low cost versions available.
>>Full details, descriptions, manuals, pricing <<
Quick links:
Quick link: need a small SMART CAMERA with the processing power of a Pentium III 1GHz? Up to 113 frames/second? There you are!
Manuals and documentation are available for downoload here.
I'll appreciate any feedback on our site!
For further support, please send me an e_mail!
---

>