VC4458: 640x480, 242(484)fps progressive scan, processore TMS320C64xx 1GHz, porta Ethernet TCP/IP + RS232, contenitore con attacco ottica passo C
8000MIPS!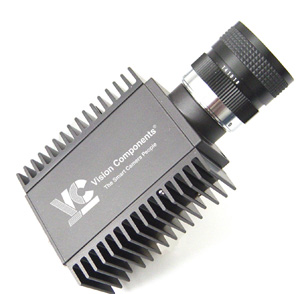 Altissimo frame rate (242 fps), 484 fps in modalitą binning 2:1, processore TMS320C64xx 1GHz; contenitore con attacco ottica passo C, uscita video SVGA.
Specifications

VC4458

Sensor:

1/3", 640 (H) x 480 (V) Pixel

Shutter:

High-speed: up to 5 µsec
Low-speed: up to 20 sec adjustable integration time

Integration:

Full Frame Progressive Scan

Frame rate:

242 fps (484 fps with 2 times binning)

Acquisition:

Asynchronous, program controlled or external trigger, full frame

A/D conversion:

1 x 33 MHz / 10 Bit

Processor:

8000 MIPS, 1 GHz Texas Instruments TMS320C64xx

Image display:

B&W or pseudocolor from 3x8 bit RGB lookup table

Image/Data memory:

64 MBytes SDRAM

Flash memory:

4 MBytes Flash EPROM (non volatile memory) for programs and data, programmable in the system

Dig. I/O's:

4 inputs / 4 outputs optically decoupled 24V, outputs 4 x 500mA

Interfaces:

RS232 up to 115.200 Baud max.
and
100Mbit Ethernet

Video output:

SVGA 800x600 (VESA standard)

Supply voltage:

24V +/-20% DC, max. 300 mA

Electrical connections:

I/O (DC IN, PLC, 12-pin), V24 (6-pin), Trig (Trigger/keypad, 6-pin), VGA Out (10-pin)

Dimensions:

ca. 120 x 50 x 35 mm, ca. 250 gr.
(Caratteristiche comuni della famiglia C6)
Download brochure.

Family map: tutti i modelli della serie C6 da 3200 e 8000MIPS