VisiCube: compact vision sensor with built in lens and illuminator: waterproof (IP65), 640x480, 32fps progressive scan, TMS320C64xx 400MHz processore, Ethernet TCP/IP + RS232 ports.
3200MIPS!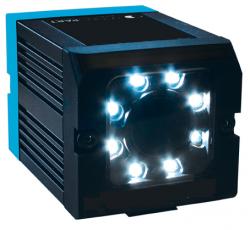 Waterproof; 32 fps, TMS320C64xx 400MHz processor; built in lens and illuminator.
Specifications

VisiCube

Sensor:

1/4", 640 (H) x 480 (V) Pixel

Shutter:

High-speed: up to 36.2 Ásec in steps of 62.4 Ásec
Low-speed: up to 2 sec adjustable integration time

Integration:

Progressive Scan

Frame rate:

32 fps

Acquisition:

Asynchronous, program controlled or external trigger, full frame

A/D Conversion:

1 x 12.5 MHz / 10 Bit

Processor:

3200 MIPS, 400 MHz Texas Instruments TMS320C64xx

Video output:

100 Mbit, via Ethernet on PC

Image/Data memory:

32 MBytes SDRAM

Flash memory:

4 MBytes Flash EPROM (non volatile memory) for programs and data, programmable in the system

Dig. I/O's:

2 inputs / 4 outputs optically decoupled 24V, outputs 4 x 400mA

Interfaces:

Ethernet 100 Mbit TCP/IP
and
RS422

Supply voltage:

24V +/-20% DC, max. 200mA

Electrical connections:

Plug M12, 8 poles, ethernet M12, 8 poles, process M12, 5 poles

Protective system:

IP 65/67

Dimensions:

65 x 45 x 45 mm, approx. 170g
(Common features of C6 models)
Download brochure.

Family map: all models.